Native Dancer

Anyone who has known me for very long knows that I like grey horses. I don't know what created this propensity, but it is there. Here is some information that may or may not be interesting for you.
I have started with Native Dancer as he was the first horse to really garner the television spotlight of the modern era. Would he have had as much interest from the general public in the new age of television if he had been a more traditional Thoroughbred color? Probably not. His coat color stood apart for fans watching him run live as well as those watching him run on television.
Statistically in 1953, only one in every one-hundred-thousand thoroughbreds was grey. When Native Dancer appeared on the scene, there were very few grey horses that had shown any mettle in racing. One was the stallion Mahmoud and the other a horse called First Fiddle.
Mahmoud (1936-1962)
In addition to the statisical limitation on actual numbers of grey horses, many horsemen felt that grey horses were inferior to other colors. There were theories that greys lacked stamina, were unlucky, were diseased. Color alone was influencing how people perceived the grey horses.
Interestingly, there would be no grey horses available if it weren't for a horse called LeSancy, a French stallion that all modern grey pedigrees are traceable to. If this horse had not factored in on Thoroughbreds, the grey probably would have disappeared in the late 1800's.
LeSancy
LeSancy's son, Le Samaritain won the majore race the French St. Leger. He sired a colt called Roi Herode who raced and then was retired to Ireland to stand at stud. From there, Roi Herode sired The Tetrarch which was an interestingly colored grey horse that had white patches throughout his coat. He was nicknamed "The Spotted Wonder" and won all seven of his two-year-old races in England, but was then injured and retired to stud. His daughter Mumtaz Mahal figured prominently in many modern grey pedigrees.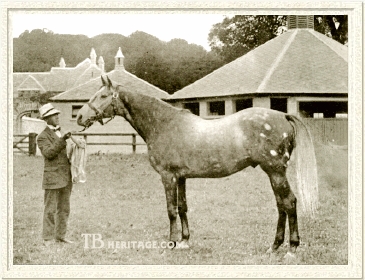 The Tetrarch
After The Tetrarch, there was some renewal of faith in grey horses, however there was still prejudice toward the color and many horsemen avoided them. As strange as this is to me, there were races available only to grey horses as recently as the 1940's. In the 1950's, the color was still considered a novelty and many still believed the grey horses to be genetically inferior to more standard colors.
Of course the grey color has no effect the running ability of any horse, but even today there are people that believe greys are less suitable and less talented.
To Further Your Education: